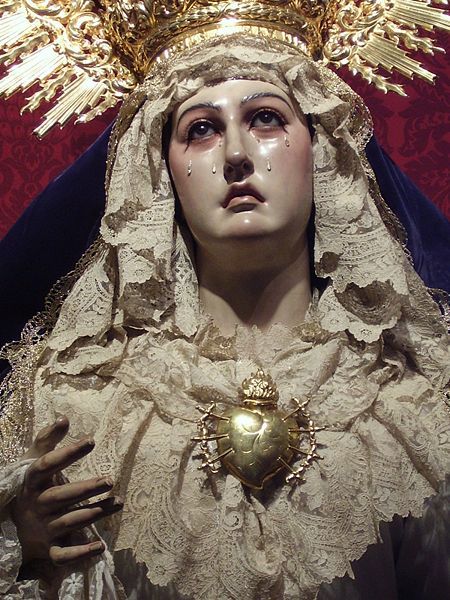 some of you have been asking about my etsy hiatus. lately i've been holding back in part because it feels so special just to have it mostly in my shop in philly. i can speak to the person who's buying it face to face, they can get a better feel of who i am. however, the written element of the work is lost this way & i really miss it. plus, there are so many great people who i've met from etsy who buy my work & i miss that too. therefore, i've been mentally revamping the shop and have come up with new lines, & ghost willing, i should have some new blood online soon, and of course surely before the holiday rush.
the first line i want to talk about here is called 'catholica melancholia'. this isn't something entirely new, i've been working with the anatomies of rosaries for a while now. these strange pieces will be sort of divinatory pieces. although a root of them is catholic imagery (such as my favorite lady, our lady of the 7 sorrows, as seen above), these pieces will be blended with other spiritual practices; native american beliefs & divinatory ritual items, such as hand painted runes. what draws me to catholic imagery is something i touched on earlier with my nun post. i find it strange and out of reach, a mystery. by combining this mystery with the spiritual practices that i actually practice is my way of making hybrid prayer pieces. kind of like rosaries/ meditation pieces for a future dystopia.
of course, these images and visual inspirations will also worm their way into the new show i'm currently working on called 'planchette', which is based on the writings of my twin, danielle vogel. more on that soon!